We provide CCTV cameras installation for construction sites. Our engineers have decades of experience in working with some of the leading construction companies in the UK. We understand your requirements and take pride in ourselves in delivering the best result for construction site.
Our CCTV construction cameras can capture clear images of an incident and can provide you with all information such as time, date, cameras ID and etc which you require to claim insurance or for other reasons.
Cost of installing CCTV cameras for construction
Every project is different, we provide free initial consultancy and quote. It is difficult and almost impossible to quote for a project with conducting a survey. We will send one of our experienced technical person to conduct a free survey and we will forward you our recommendations with graphical drawing of the project.
This will give you an idea about the outcomes of the project.
Subcontracting CCTV construction work
You subcontract CCTV project to us. We have managed small to very large CCTV projects and delivered the expected results.
Why us?
We have decades of experience in managing CCTV projects and specifically construction.
We have worked with some of the UK leading construction companies
All our staffs are basic CRB checked and CSCS card holders
All our CCTV installations are carried out in accordance with BS50132
Proven track record
Contact us
Please call us on 020 8320 1445 or 077 2441 9413 for further information and free consultation.
CCTV construction
CCTV for construction site is a very hot topic to discuss. We understand that a security requirement for a construction site is completely different from general security requirements. Recent review conducted by a research company suggests that over £70 million of materials has been stolen from sites in just one year. Construction plants, excavators, compressors, diesel, copper in some cases even cranes are targeted by thieves. It is estimated that construction sites in the UK are experiencing on average £800 million pounds lost per year. This includes hiring equipments, loss of business, increase in insurance premium and other cost. The importance for security in construction sites have seen dramatic increase and CCTV for construction site is playing a huge part.
As the demand increased for a construction security system, there are many installers offering CCTV installation for construction sites. But most of construction thefts are well planned and at some point thieves have involved or seen the site before. In this case it is very important to implement a security system that can meet modern day challenges and with state of art technology. We design and install CCTV, alarm and access control systems for construction sites. We use high resolution 2 million mega pixels cameras with high quality network recorders. For continuous recording and monitoring purpose these recorders are connected to Alarm Receiving Centres via secured BT redcare lines.
Our uniquely designed CCTV system for construction connects also via broadband and GSM or GPRS. This provides continuous monitoring even in the absence of internet or main telephone line. We also provide solar and battery powered security cameras, this can work even when there is no power.
We still believe no matter what system is installed it is hard to replace human. We work partnership with SIA approved security companies and we can provide guards to protect your site. Even though we have carefully considered all possible threats and hazards in designing our CCTV systems, we still recommend you to have at least one security guard.
A good CCTV system for construction can reduce security expenditure and provide more security.
Please call us on 02083201445 to discuss in details about your security requirement.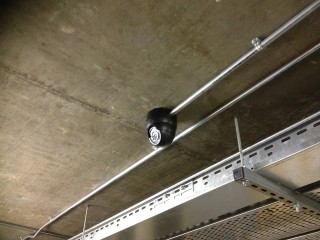 How it works?
We will work with you to find the most important places where you will be requiring cameras to be installed. Cameras and movement detectors will be installed to cover those areas. Cameras will be recording all the time during the work hours and once the site is closed, it will go into motion detection mode. This will allow you to easy retrieve video footage from the recorder.
Construction site monitoring service
We work with SIA approved monitoring centres, your CCTV system will be connected to the monitoring centre. You will be provided with continuous monitoring service with communication link. Your CCTV system can be connected via conventional broadband line or wireless broadband. As soon as your sensors trigger an unwanted movement, it will send a signal to monitoring centres and monitoring centre will get in touch with key-holder and police will be called if necessary.
Off site video storage
Our CCTV system is capable of recording off site. CCTV video footage's will be recorded off site at VGA resolution and kept on a virtual storage for 7 days and then sent to an archive for 6 months. There will be an additional charge for this service, please talk to our sales team to find more.
Leasing option
We offer a leasing facility for CCTV equipment's.  Therefore you do not have to worry about paying a lump sum amount for CCTV installation, we can find a better leasing option for you.
How much it will cost us?
We have various price plans, please call us to find more about the price plans available. In order to give you a ballpark figure our prices start as little as £25.00 + VAT per camera for one week, this includes police response, instant email alert and free installation.


(Please note that company terms and conditions apply)