Installing a fire alarm system
It is important to install a fire alarm system that will provide early-warning of fire to save lives and protect properties. Improper installation of a fire alarm system can severely impact the performance of a fire alarm system, therefore it is very important to select a competent fire alarm installer to install your fire alarm system.
For maximum protection from fire, customers should look for approved fire alarm installers who install the system in accordance with all specified standards. Also a maintenance contract should be put in place for continuous monitoring of the system.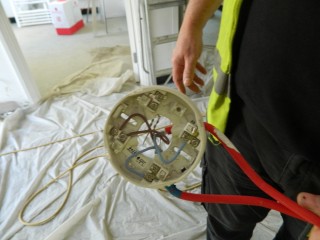 LPCB standards LPS 1014 (Requirement for certificated fire detection and alarm systems firm) highlights the requirements for companies engaged in fire alarm design, installation, commissioning and servicing. Inputs from industry experts, years of research and experience from previous challenges have taken into to consideration to bring LPCB standards.
Standard requires a certificate of conformity to be issued by an approved fire alarm system installer, this certifies that installing firms take responsibility for designing, installing, commissioning and maintaining the system. It is also required by the insurance and benefits fire brigade, building owner and other parties involved.
Certificate and conformity is based on BS5839 -1. A fire alarm system is made up with different equipments such as detectors, panels, cables, sounders, sirens and etc. All these equipments require testing and approval from LPCB to compliance with code of practice. LCPB has been approving fire alarm equipments since 1980's and its labs are equipped with latest equipments to test fire alarm components.
BAFE scheme SP203
This scheme is an alternative to LPS 1014, this scheme approval can be obtained from one of the four approved bodies of BAFE. ISO 9001:2008 is required along with standard code of practice such as BS5839 and NFPA rules.
Fire alarm installation courses in London, please contact for further details.