How to secure your home when you are away?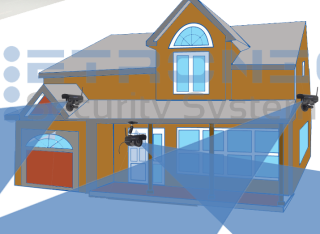 Don't be a victim of a burglary. Take the time and effort to make your home safe when you are away from it. On average Brits go on holiday at least once a year and this is when your home is left alone. Many burglaries happen when the property is unoccupied. Your home becomes an easy target when it is left without any security protection. Below are some of the steps that you can take in order to secure your home.
Make it appear that someone is at home – use timers to switch on devices like your radio, TV and etc. You can buy timers and they are not very expensive. Leave the curtains as usual, don't leave it fully opened, either fully closed. Arrange your neighbour or friend to pick up your mails, use thick cylinder locks for your outside garage and workshop.
Buy a plug and play IP camera and install it. Wireless IP mega pixel cameras are easy to install and produce high quality video footage. If you have a budget, you can install a professional CCTV system to cover your home. In a good CCTV system you should be able to recognise the person who is standing outside your home and should have sufficient recording days. In most system you will get at least 31 days recording, which covers your holiday period.
Install an intruder alarm system. Don't buy DIY kits from high street shops. Most of them are not compliance with alarm standards. You can buy a professional intruder alarm system for the same price as a DIY kit. Make sure your alarm system is compliance with BS50131 standards.
If you are a DIY star, you can install a wireless alarm system yourself. If you decide to call an alarm installer, always check whether the company is an approved alarm installation company. An approved alarm installation company can connect your alarm system for a police response. By asking whether they can provide that service you will find whether they are approved or not.
Have clear signs outside or in your window saying 24 hours security system in place. This will works as a deterrent.
For professional alarm and CCTV camera installation, please call Cube Security. We provide professional intruder alarm installation and monitoring service, please call us on 020 8320 1445